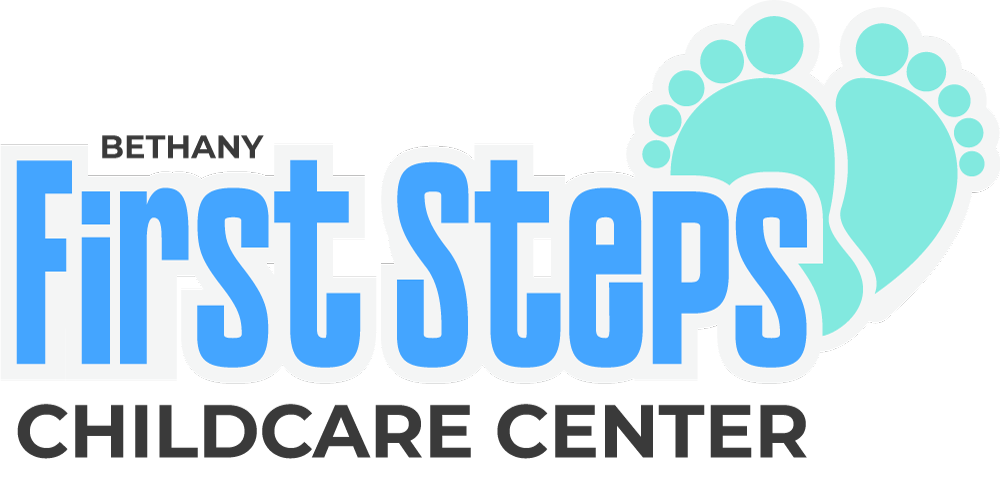 Bethany's First Steps promotes Christian values, manners, morals, respect and caring in a nurturing environment. Bethany's First Steps  emphasizes a practical, easy to understand approach to working with children. It promotes the use of interest areas in the classroom for music and movement, manipulatives, math, science, dramatic play, writing and art as a way of providing experiences that promote Physical, Social/Emotional, Cognitive and Language skill development. Faith development is equally important. Children will also participate in Bible time each week where they will learn about God's love for them, sing praise songs and learn more about the Bible.
All children are welcomed and treated with respect. Communication and developing relationships between the parent, child and teachers creates an atmosphere of respect, cooperation, communication, professionalism and kindness in which to give children the best care possible. It is our goal that all of the children that attend Bethany's First Steps leave with a strong sense of self and knowing that Jesus is in their heart. We look forward to getting to know you and your family.
Bethany First Steps' mission is to provide safe, high quality and developmentally appropriate child care in a loving Christian environment to children ages 6 weeks to 6 years.
Specifically, Bethany First Steps is committed to:
Support and encourage the families we serve
To provide for all areas of a child's development
To teach children to respect themselves, others and their environment
For children to learn self-confidence, grace, forgiveness, accountability and responsibility